Little Foodie
Regular price

₱2,500.00
Sale price
Benefits
⭐️ Fosters role-play!
The developmental benefits of role-play cannot be overstated.

Role-play encourages imagination and creativity – supports social and emotional development – builds and strengthens communication skills – and develops cognitive flexibility – oh and did we mention it is SUPER fun?

🌱 Environmentally mindful
We do our best to make products that are kind to the environment, and are always on the look out for ways to improve. The Little Foodie is 100% plastic free!

❤️ Gender neutral
We don't believe in boy toys and girl toys over here. The Little Foodie was designed with all children in mind.

🔌 Unplugged

Encourages children towards active, imaginative play.

🦄 Unique
Each Little Foodie is woven and lined by hand therefore no two will ever be the same!

🙂 Versatile
While we designed the Little Foodie for make believe play, our customers are filling them with goodies and presenting them as gifts, using them as storage baskets, or as portable nappy hampers – The options are endless!


Care Guide
You may consider treating the canvas components of your piece with a fabric protector of your choice.

Expect your canvas to become dirty over time and with use. To clean simply dip a soft cloth in warm water, and gently rub in a circular motion.

To remove tough marks or stains add a small amount of dish liquid to warm water (around 1 tsp to 1 cup water).

Woven parts can be wiped down with a damp cloth. Keep away from water.
Dimensions
Share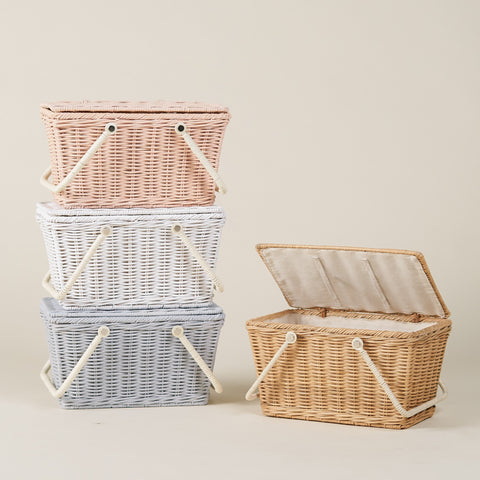 Slow down and connect through role-play.
Beach picnic, countryside tea party, or late night snack – Whatever their style, your mini chef will be imagining gourmet masterpieces for the whole family to enjoy from their Little Foodie picnic basket.
Fully lined with canvas, and hand woven with care; each Little Foodie comes to you in our signature up cycled flour sack packaging.